Academic Lecture (124): "Fashion of Our Time"
Location
No.1 Building 202R
Lecturer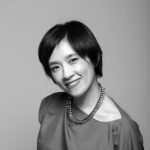 Florence Lu
Profile:
Chief Editor of Hearst Media Group Taiwan.  Associate Professor of Shih Chien University.
Speech Outline:
The modern development of Taiwan's fashion industry has always been supported by the passion and enthusiasm for supporting our own people." For thirty years, I have participated in Taiwan fashion industry as a fashion journalist, a supporter, and a consumer and I have always had such a strong feeling during the whole journey.
Fashion designers of different generations, in the face of challenges in different times and the increasing intensity of international market competition, have always maintained an unstoppable enthusiasm for fashion. This is what has been driving Taiwanese fashion in the past half century.